Testimonials
Here is What some of our Clients have said about our schools in Didsbury, Chorlton and Buxton
Click on the Play Button to hear what
Mrs. Couchman has to say about the Academy
Click on the Play Button to hear what one of our parents has to say about our Lil' Dragons program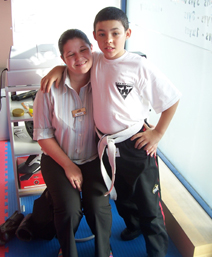 Click Here to Book Your First FREE Lesson Now
I am Jaydon's Mum and I'm really happy about the classes he is involved in. Every time he attends he really enjoys the class and he has got a lot more confidence since he has attended.
I'm also really happy with his progress and I know he can go along way if he stays here at the Black belt Academy. I've always wanted him to get involved in a sport but I've found it difficult as he has got asthma, but he really enjoyed here. I also want to say since he has met his Master he has been a lot better with discipline at home and I would like to thank him for being such a good teacher for my son. Thanks for every thing you are doing to help my son full fill his ambition.
R Crowther
Click Here to Book Your First FREE Lesson Now
Recently Joined CBBA. I look forward to it every week. The Instructor gives the same amount of time to all students. Every ones improving quickly. Met new friends and getting fit. (Brilliant)
Neil Roberts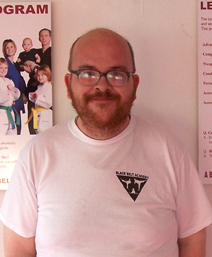 Since I've joined Master Edwards academy. My Confidence has improved greatly and so has my fitness (I've lost about 4 pounds). The classes stimulate both mind and body a you can have a laugh as well.
Andrew Blair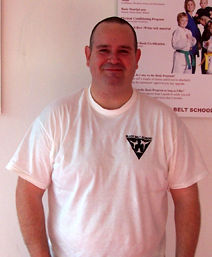 Since I've joined. My Self confidence has improved a lot and so has My fitness. I have lost some Weight and really enjoy my classes.
Andy Dingley
Click Here to Book Your First FREE Lesson Now
I have really enjoyed coming. I have more confidence. I have stuck up for myself more and gained strength. Before I have struggled a bit now I am OK. My brothers and sisters have seen a real change in me.
Holy Cunneen

Joel has built a lot of confidence since he joined kickboxing in may 2004, he has built up a lot of muscle. Joel was bullied till he started kickboxing.
Sam Jones
Black Belt Academy are words I can say with pride. I used to get bullied frequently at school but when I turned to Black Belt Academy they showed me how to deal with such problems. They have also done wonders for my confidence. I try things and give them a go. The techniques they teach I like very and they teach them brilliantly, they make sure that you can go to other people and say 'I can do that'.
There is one major thing that they have taught me and that is 'You can do anything if you put your mind to it'
Jack Ashcroft
Milo continues to enjoy his kickboxing sessions and remains continued to achieving his black belt. He particularly enjoys the weapons classes, learning the different routines.
Janet Waters

Since joining the black belt academy my partner Darren Collingwood and children Megan and Jake have grown in confidence and as well as keeping them healthy they enjoy doing it as a family.
K. G. Birtles
My flexibility has come. The kicking drills are fun and learning to "Axe kick" has improved my confidence in sparring. As well as a good way to keep fit lessons are a good place to socialize and meet interesting people.
Anna Bywater
My son, Lewis Musgrave, commenced Black Belt Training at age of 9. Now 13, he has successfully achieved his Black Belt, with a grade A.
Lewis is a wonderful child. He is active, energetic and full of fun. At school, he had problems with reading and writing and has since been assessed as Dyslexic. Needless to say, falling behind his peers in this area knocked his confidence a lot. Lewis needed something in his life that he could enjoy, and that would also make him feel better about himself.
This was the main reason why he joined Kickboxing, and within the first 6 months, it was noted that his ability in this area was outstanding. He was focused, started to feel good about himself, and shown, at his then age 10, a great deal of commitment to the sport. I recall him getting upset on the nights that he did not have any training. We then decided Lewis should join the Black Belt Members Club.
Since this time, Lewis has gone from strength to strength. He has entered competitions, and even fought on four occasion at Master Edwards 'Black Tie' Events, in front of crowds of people. His confidence is improving all the time, and so is his trophy and medals collection. And the discipline and focus he trains so hard to achieve has even assisted his performance in school.
The support that Master Edwards and Miss Gott have offered Lewis over the past 3 years has been magnificent. Not only have they trained him to be a 'Kickboxer', they have also assisted Lewis in the development of life skills, and most importantly, they have been friends to him and myself.
He absolutely loved gaining his Black Belt. Everybody cheered for him on the day, and he couldn't't stop smiling. As his Mum, it was a very proud and tearful moment, one of his first great achievements in his life. I have no doubt that he will go on to achieve even more. He is currently training for his second Dan, which will take 2 years. I have no doubt that this will encourage him to grow in further confidence though his teenage years.
Miss Jane Musgrave
My name is Darren Collingwood I am 32 and have been at the Edwards Black Belt Academy now for a year, along with two of my children Megan 11and Jake 8, initially I intended for them to take classes.
I wanted them to gain fitness learn self defence but the main reason was to increase their self confidence as they are quite shy.
I saw how much they enjoyed their classes and decided to join as well, I liked playing football at the time and was already quite an athletic person I thought this would be more challenging, and I was right, plus it is a lot more rewarding than getting up early every Sunday morning only to loose another game due to lack of team effort.
We are all pleased when grading comes around, so we need to put in the effort and focus
Darren Collingwood

I started kickboxing because I wanted to improve my fitness and learn a new skill. Within a few weeks I found my fitness and flexibility had dramatically improved. But the thing I wasn't anticipating was how much I enjoy it (exercise has always been a chore, but it isn't anymore!)
Emily
Never trying any martial arts before I was some what (apprehensive) when approached in me steel to come along.
However, I have been very pleasantly surprised. The wirier is excellent and everyone is very friendly.
I hope in the next couple of years to become much fitter and accomplished.
Alison Cooper

I have improved my self confidence by a long way because now I feel a lot more comfortable with people I have just met.
I have also improved my flexibility because now I can almost do the splits because when I came I could hardly do them at all.

Helena Brew
Claim Your FREE 30 Day Membership Here
Please note, We respect your privacy and your details will never be given to any third party.